Executive summary: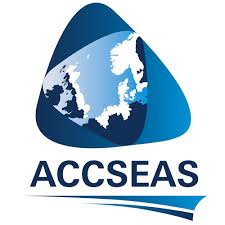 ACCSEAS developed and implemented an innovative e-Navigation Test-bed to prototype key concept solutions to advance shipping accessibility in the North Sea Region
EXECUTIVE SUMMARY
---
ACCSEAS, a three-year part EU-funded project, ended in February 2015 having successfully demonstrated the potential for e-Navigation in the North Sea Region. With 11 partners from 6 countries, the project was able to show that transnational co-operation is possible to improve maritime navigation in this important region for transportation within Europe.
Starting with a review of the present and future situation with regards to the use of the sea space, it quickly became clear that the existing sea routes were being squeezed to allow more room for energy extraction (e.g. wind farms). At the same time, an increase in traffic and vessels sizes is predicted, meaning that the complex nature of navigating the North Sea will become more problematic if solutions are not presented in time to mitigate the risks.
Using solutions based on Resilient Position, Navigation and Timing (PNT), and effective e-Navigation services, ACCSEAS has been able to show how they can improve the efficiency, accessibility and safety of navigation in the North Sea Region. Innovative solutions include the use of ranging-mode DGPS service, absolute radar positioning, "no-go" area, route exchange and integrated Maritime Safety Information services. Information services are harmonised through the use of the Maritime Cloud – a secure, standardised means of accessing data by the mariner and bridge systems. The demonstrations also use existing services such as eLoran, and show that seamless transition between positioning sources is possible with the Multi-Source Position Receiver developed within the project.
The project shows that there is much more work to be done, but the principle and the advantages of using e-Navigation is made clear, and that Europe is leading the way for harmonised information and navigation systems onboard vessels.
Funding program:
EU INTERREG IVb North Sea Region Programme
Testbed users:
Shipboard users
Shore‐based users
SAR users
Details of e‐navigation gap/s considered for the testbed:
IMO gap ID
IMO description
ACCSEAS service/solution
111-Gte01
Lack of harmonized data formats for the transfer of information received via communication equipment (e.g., Maritime Safety Information, MSI) to the navigational systems for presentation.
MSI/NM(T&P)

Exchange of intended route

Route suggestion

No-Go Area

FAL reporting

Vessel Operations Coordination Tool (VOCT)

IVEF information exchange

111-Gte02
There are no standardized data formats established for ship reporting.
FAL reporting
111-Gte05
Lack of technical solutions for processing, filtering of information exchanged via communication equipment.
Filtering functionality in:

MSI/NM(T&P)

Exchange of intended route

111-Gre01
Lack of international standards for navigation data formats.

Lack of real-time environmental information (current, tide, weather) received automatically.

Lack of international standards for navigation data formats and water level and current information as well as a standard for dates.

No-Go area
112-Gte01
Lack of effective and harmonized means for assessment of the accuracy and plausibility of indicated information.

Lack of effective ways to indicate levels of reliability.

Resilient PNT
112-Gop01
Lack of assessments to quantify reliability parameters (e.g., specific assessment of electronic position fixing systems).
Resilient PNT
113-Gte02
Lack of timely delivery of ENCs and updates via internet.

Lack of real-time tidal data, AIS data and ENC updates.

No-Go Area
120-Gte03
Lack of systems for source and channel management for communication equipment.

Lack of seamless and communication mean dependent protocol for exchanging navigation information between ships

Insufficient techniques and procedures for exchange of data between ship shore and on board.

The Maritime Cloud
132-Gte01
Insufficient reliability of position fixing systems.
Resilient PNT
134-Gte04
Lack in presentation of manoeuvring information/data(engine-room telegraphs) on navigational display.
Dynamic predictor
Upon receiving real-time Maritime Safety Information (MSI) and other navigational warning/broadcasts relevant for the
vessel's navigation, there is no appropriate and suitable interfacing technique that could allow these data/information to be available (visible) in real-time to the mariner.Lack of technical solutions for processing, routing, and filtering of information received via communication equipment to enable transfer of the information to navigational systems.Lack of technical solutions for presenting communication information/Maritime Safety Information (MSI) on navigational displays.Lack of presentation of warning broadcasts on navigation displays.Insufficient means for sorting and display of Maritime Safety Information (MSI) such as NAVTEX, SafetyNET.Lack of user-selectable and task oriented presentation of information received via communication equipment (including MSI) on navigational systems.Insufficient network of storage, sharing and distribution of MSI.Unless having prior subscription, the current system does not allow for Maritime Safety Information (MSI) and other navigational warnings/broadcast, etc., to be received in real-time mode and be integrated with the navigation display.

Unavailability of information in real-time with possible presentation on the navigational display to support bridge
operation.

Lack of integrated secondary screen option for digital publications and MSI.

Lack of interface messages between sender and receiver for monitoring of local/coastal warning broadcasts/watching GMDSS system (NAVTEX, NAVAREA message).

Primarily MSI/NM(T&P)

and

The Maritime Cloud

140-Gt01
With the exception of Polling, current system does not provide provision for automatic ship reporting.
FAL reporting
140-Gte02
Lack of automated and standardized ship reporting function.
FAL reporting
140-Gte04
Insufficient means for ship reporting.
FAL reporting
211-Gte01
Lack of a common maritime information/data structure harmonizing the policies for the security and use of data.

Insufficient identification of harmonization needs for standards, formats and protocols.

Lack of protocols, formats and data structure that enable shore based authorities to exchange information with other authorized shore based users.

No standardized format for data exchange between VTS centres and other e-Navigation stakeholders.

The Maritime Cloud
220-Gtr01
Lack of international guidance on security of data and its sharing
The Maritime Cloud
235-Gte01
Insufficient delivery and presentation of maritime information that shore based authorities are required to provide to ships.

There are no standard data formats for on board capture and presentation that cover the entire scope of information provided by a VTS

IVEF information exchange
310-Gte01
Lack of mechanisms to provide SAR (RCC) function with the full range of relevant e-navigation information in digital format.

Hardware: Resources and capability available for infrastructure can be lacking and therefore tools needed for accessing digital data may not be available. Lack of data in digital format.

Vessels Operations Coordination Tool
320-Gte01
Lack of an automated data network connecting all stakeholders in SAR intervention, including improved communication between RCC and shore-, land-, sea- and air-based entities.

Lack of access to the details of all relevant on-board communication and capabilities for SAR authorities.

Limited resources for communication infrastructure in SAR operation

Vessels Operation Coordination Tool

and

The Maritime Cloud
FURTHER GAPS IDENTIFIED FOR THE RESILIENT PNT SOLUTION:
| | | |
| --- | --- | --- |
| User Field and Category | Gap | Notes on Solution |
| Shipboard/Information/Data Management/Improved Reliability and Indication/Technical | Lack of effective and harmonized means for assessment of the accuracy and plausibility of indicated information | The development of a Resilient PNT integrity equation to calculate an estimated Horizontal Protection Level (HPL) |
| Shipboard/Information/Data Management/Improved Reliability and Indication/Technical | Interoperability of systems and sensors is not realized | A Multi-Source Receiver was produced which demonstrates the interoperability of sources of PNT. |
| Shipboard/Information/Data Management/Improved Reliability and Indication/Technical | Lack of self-checking functionality of the electronic equipment. | The development of a Resilient PNT integrity equation to calculate an estimated Horizontal Protection Level (HPL). The demonstration of alerts to the mariner upon failure of a source of PNT to produce a plausible output |
| Shipboard/Information/Data Management/Improved Reliability and Indication/Technical | Insufficient reliability of position fixing systems | A Multi-Source Receiver was produced which demonstrates seamless and automatic provision of Resilient PNT, the monitoring of the performance of each source independently of another, and reporting on the navigation solution quality. |
| Shipboard/Information/Data Management/Improved Reliability and Indication/Operational | Lack of assessments to quantify reliability parameters (e.g. specific assessment of electronic position fixing systems). | The development of a Resilient PNT integrity equation to calculate an estimated Horizontal Protection Level (HPL) |
| Shore-based/Traffic/Traffic Monitoring/Technical | Lack of procedures that enable shore based authorities to monitor quality of navigation systems on board as well as quality of information and effectiveness of communication | The navigation solution accuracy estimate provided by the on-board HPL computation, in addition to alerts pertaining to change of PNT source may be transmitted to shore side users through the Maritime Cloud. |
Organisation(s) involved:
Organisation
General Lighthouse Authorities of UK and Ireland
Chalmers University of Technology, Sweden
Danish Maritime Authority
Federal Waterways and Shipping Administration, Germany
Rijkswaterstaat , Ministerie Infrastructuur en Milieu, The Netherlands
Swedish Maritime Administration
Norwegian Coastal Administration
Flensburg University of Applied Sciences, Gemany
NHL Hogeschool Leeuwarden, Maritiem Instituut Willem Barentsz, The Netherlands
World Maritime University
Details of e-navigation solutions considered:
S1: Improved, harmonized and user‐friendly bridge design
S2: Means for standardized and automated reporting
S3: Improved reliability, resilience and integrity of bridge equipment and navigation information
S4: Integration and presentation of available information in graphical displays received via communication equipment
The category of e‐navigation gap/s considered:
Technical
Regulatory
Operational
Training
The category of e‐navigation solution/s considered:
Technical
Regulatory
Operational
Training